This tote bag presents tree reflections which create a shimmering abstract pattern on the pond in tones of black, white, silver and gray.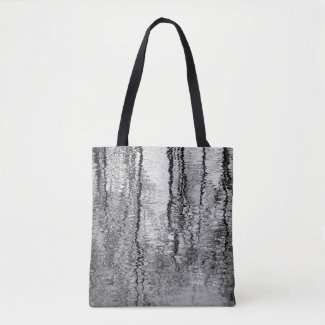 Black and Gray Tree Water Abstract Tote Bag
by
Bebops
Check out Trees Totes online at
zazzle
Here is an Samsung Galaxy S7 which features features a Chinese poet and his sidekick in black and white. Han Shan, also known as Cold Mountain, stands with Pickup as they contemplate the universe.
Cat face coffee mug
This contemporary throw pillow features an artistic, black and white abstract pattern of the top of a tulip tree in winter with bare branches in silhouette.
This stunning collection features a contemporary abstract pattern of retro black and white squares on a variety of items to accentuate your home decor for the kitchen, dining room, bathroom, living room, bedroom and study.
This classy luggage tag features a black and white striped design with a customizable initial on the front and five personalizable text lines on the back. (Design © 2014 Deborah Dalio)
This shower curtain features a repeating abstract pattern of adorable African Penguins standing on a rocky ledge. They are aquatic, flightless birds whose wings have become flippers. Each has a black stripe and black spots on the chest. The pattern of spots is unique for every penguin, just like human fingerprints. They have pink glands above their eyes and pink and black feet.
This stunning, pure white daffodil against a black background is a lovely thank you card.
This fun customizable wall clock has drum notation and rudiments instead of numbers. There is a flam, music eighth notes, sixteenth notes, triplets, rudiments such as 5- and 7-stroke rolls, and even a 12-count blues or swing rhythm pattern. There are dots for the minutes, but you can delete these if you want. You can also change or add a background color or the style or size of the clock to personalize it.