This festive tank top is decorated with circles in a riot of colorful balloon polka dot bubbles: yellow, green, turquoise, blue, red, orange and pink. They are set on a pale yellow background but you can easily customize the background to the color of your choice.
This artistic, decorative Incipio iPhone 6 Plus case features beautiful orange, yellow, red and gold sunflowers wide open against a golden yellow background.
Yellow beer patterned ZIPZ® High Tops with a white beer head - bear with antlers like a deer - a rare creature and patron of brewer and party folk
It's autumn, and a luminous golden yellow full moon has risen behind the black silhouettes of leaves blowing in the breeze on this dramatic fine art photography decorative throw pillow. The background is illuminated in tones of orange, gold and brown to create an abstract pattern in an Asian motif.
Here is a floral bathroom scale featuring an adorable black and white chickadee among gold and yellow forsythia flowers. This sweet little bird is one of the friendliest creatures in the animal kingdom. Wonderful for gardeners or birders!
Hey diddle diddle, the cat and the fiddle, the cow jumped over the moon. The little dog laughed to see such a sight and the dish ran away with the spoon! This clock depicts a portion of that famous nursery rhyme, and will brighten up any child's room. Personalize it with customizable text.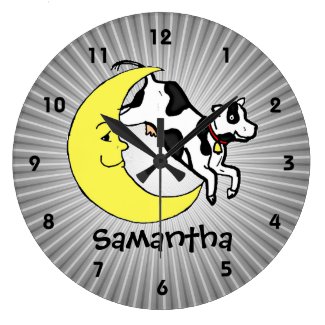 Cow Jumps Over the Moon Personalized Kids Clock
by
Sjasis Design Space
Look at other Cow Wall Clocks at
zazzle.com
This necklace features a simple design of two golden yellow Asiatic lilies against a pure black background.
Accentuate your home decor with a selection of these lovely items based on an ancient Chinese landscape theme. Products include pillows, lamps and kitchen ware.
A beautiful card to send birthday wishes, but you can alter the text and use it for other purposes as well! For all options, choose "customize it".