These animal high top sneaker shoes feature the incredible luna moth, a lime-green, Nearctic Saturniid moth in the subfamily Saturniinae. With a wingspan of up to four and a half inches, this lovely creature ranks as one of the largest moths in North America. This adult moth has just emerged from the cocoon and is waiting on the bark of a tree trunk to dry and harden. The adults do not eat or have mouths. They live for only one week and emerge as adults only to mate. With lime green color and distinctive eyespots this is a very mysterious, magical looking being.
This USB charging station features a small female green frog with a yellow belly sitting among the grasses at the pond. She seems lonely as if she is waiting for her Prince Charming to appear.
Charming square abstract pendent necklace that will look great with just about any outfit.
This lovely floral wedding collection features masses of flowers in every color of the rainbow. Enjoy the yellow, orange, pink, red, blue, purple and white floral pattern set on a background of green leaves. One is reminded of a French Impressionist painting. All text can be customized for your very special occasion.
This fine art photography nature wall calendar for 2016 presents a sampling of the wonderful, diverse wildlife of the Northeastern United States. Each month introduces you to a different animal from the forests, trees, rivers and lakes. Get to know the Eastern Cottontail Rabbit, Eastern Chipmunk, Ruffed Grouse, Short tailed Weasel, Red Eft, Red Squirrel, House Finch, American Toad, Whitetail Deer, Deer Mouse, Wild Turkey and Raccoon.
Radiant green succulent plant macro photography throw pillow
This iPhone 6 case features a confrontational green and yellow frog with an attitude staying cool on a hot day in the blue and gray shallow water at the edge of the pond.
This simple 2016 nature calendar mousepad rests on a background of leafy green maple leaves in yellow sunlight to remind you of a beautiful summer day as you sit at your computer at any time of year.
Blue Green Star Fractal Pattern Throw Blanket. A perfect addition for your favorite comfy spot.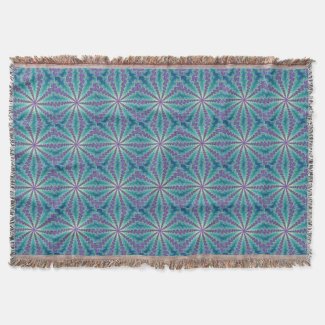 Blue Green Star Fractal Pattern Throw Blanket
by
UROCK Dezine Zone
Find more Urock Throw Blankets at
Zazzle