Easily personalize the name on these bookplates which feature gorgeous Johnny Jump Up flowers (Viola cornuta). Also known as Heart's Ease and Viola Tricolor, this lovely garden plant resembles a pansy. Terrific for identifying the books in your own collection, these bookplates will also make a wonderful gift for book lovers and gardeners!
Lovely lilacs are the theme of this elegant floral wedding collection which includes invitations, clothing, favors and much more!
Fractal render manipulation and digital painting work. Silhouette of a victorian woman on a black background with lacy curtains, a victorian door, a flowery accent rug, and back lighting. Click on the "Customize it!" button for design options. Artwork by Karlajkitty
This fine art wrapped canvas print presents a seasonal winter landscape in shades of blue, violet, gray, white and purple. The trees are bare. Ice covers part of the water but lovely reflections of trees, clouds and sky shine through. Snow surrounds the pond.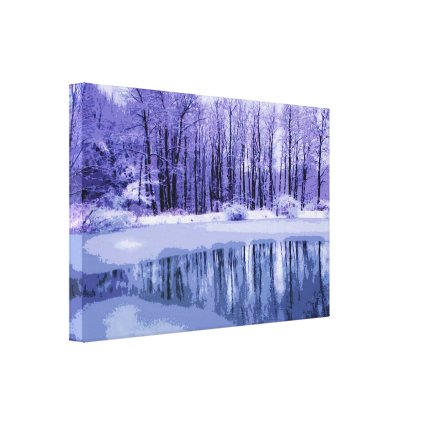 Blue Winter Pond Canvas Print
by
Bebops
Look for more
office art
at zazzle.com
A fanciful design of pink and purple flowers with green leaves and stems set on a violet background is featured on this cheerful floral iPhone 6 case. What a fun gift for gardeners!
Classy purple silvery butterfly pattern mousepad with horizontal purple tile for your text or monograms, Inspired by love, classy modern romantic attractive design perfect gift for every occasion.
This fine art floral pouf ottoman is decorated with a bouquet of six delicate violet colored crocus flowers with golden centers set on a purple background. When the crocuses bloom, we know spring is here! This is the perfect gift for gardeners!
Luminous purple flowers light up this custom stamp!
Not only is there a pot of gold, but a dragon to protect this laptop sleeve. His magic is strong, but his heart is tender. He may look fierce, but he's really a softy. Take him home and see for yourself.