This poster depicts the abstract energy of fire in a wood burning stove. The orange, gold and yellow flames appear as joyful dancing characters. They are set off by a black background. The quotation is from the pre-Socratic Greek philosopher, Heraclitus of Ephesus, who lived from c.535–c.475 BCE. It reads: ... it always was and will be: an ever-living fire, with measures of it kindling, and measures going out.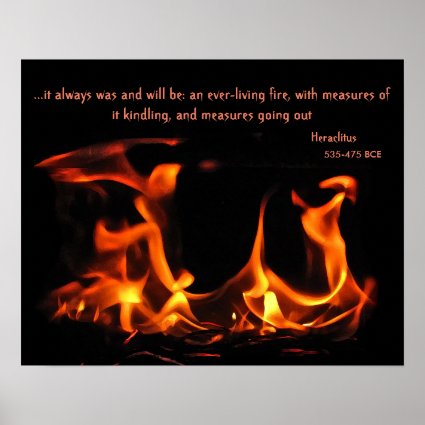 Heraclitus Everlasting Fire Poster
by
Bebops
Browse for more
artwork prints
This USB charging station features a Great Blue Heron (ardea herodias) in black silhouette, fishing in the shallow waters of Cayuga Lake in Ithaca, NY which is one of the Finger Lakes of upstate New York. A beautiful orange, yellow and gold sunset colors the waves and ripples in an abstract pattern.
An original design in the steampunk style featuring a butterfly made up of metal cogs. A pretty and decorative sci fi fantasy design necklace.
Here is a lovely collection of grazing horses on a variety of bathroom products.
This gorgeous purple and yellow floral iPhone 6/6S phone wallet case presents a Johnny Jump Up flower (Viola cornuta). Also known as Heart's Ease and Viola Tricolor, this lovely garden plant resembles a pansy. This is a fantastic gift for nature lovers, art lovers and gardeners!
This card features an original photo of a rising super moon over tree tops and clouds, and an inspirational, anonymous proverb, "Be humble, for you are made of earth. Be noble, for you are made of stars." Blank inside.
This decorative throw pillow features a geometric abstract pattern of five sided pentagon shaped mosaic tiles in brilliant autumn colors of red, orange, brown, yellow, gold, blue, gray, black and white.
If you love beer, here is a soap dispenser and toothbrush holder bathroom set for you! The fine art design features a glass mug full of golden brown brew topped of with white foam. The glass has an abstract pattern of yellow reflections and water drops. Whether your taste runs to lager, ale, stout, pilsner, weissbier, porter or wheat beers, whether you love home made, domestic or imported, this will be fun to own!
A stunning collection of wedding invitations with a tropical beach theme for the engagement party, shower, bachelorette party, rehearsal dinner, main wedding event, RSVP, reception and brunch.
Customizable mousepad with oranges and lemons.