This colorful outdoor pillow features a shiny green, yellow and black grasshopper perched on the purple center of a flower with gorgeous red petals.
This exquisite iPhone 6 case features two brilliant red carnations set on a pearly white embossed brocade fabric background. The perfect gift for a flower lover or gardener!
You'll be kickin with these! Bold, Colorful retro style flowers, hippy style in bright colors! Large petal flowers in a jumbled assortment. 70s Hippy look, great throwback item! Groovy! Girly theme, pretty with a pink background. Your inner Hipster Hippy Girl will love you forever!
This gorgeous wrapped canvas print features a bouquet of scarlet red tulips and green leaves set on a pure black background.
This lovely Rickshaw messenger bag features an abstract design of Euonymus alatus, known variously as Winged Spindle, Winged Euonymus or Burning Bush. It is a deciduous shrub native to eastern Asia which is used for landscaping all over the world. The green leaves turn to an incredibly brilliant scarlet red foliage in autumn.
You know and I know that you're a gift from the heavens so let's tell it to the world! Well, maybe that's just a little over-the-top, but you are worthy of attention & celebration & this fab tank will certainly bring you that! Printed from an original painting features rich, vibrantly colored hand-painted ribbons in shades of olive green, sage, fiery coral & ruby red, flow down & out from the shoulders, topped w/a giant red bow across the chest.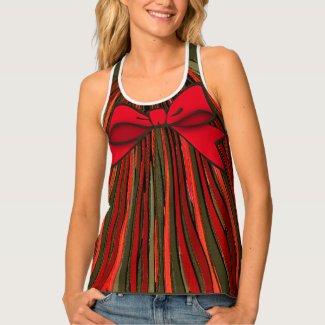 Festive Ribbon Stripe Wrapped With A Bow Tank Top
by
IconDoIt
Check out Streamers Women's Tank Tops online at
zazzle
This simple yet decorative iPad Air 2 case features a colorful retro abstract pattern of bold geometric stripes in colors of red, orange, brown, olive green, black and tan.
This exquisite fine art light switch cover features yellow and black Tiger Swallowtail butterflies on red and pink Calibrachoa flowers.
Red Sketchy Hearts Design Compact with customizable personalization.