Celebrate the sun on the longest day of the year with these lovely Summer Solstice invitations.
This colorful OtterBox iPhone 6/6s case presents an image of a contemporary abstract fabric pattern in wavy psychedelic rainbow colors of pink, red, yellow, orange, green, blue, brown, mauve, purple and turquoise which resembles a painter's palette.
Great mug for art students, teachers, classes, accomplished artists.... Personalize it by clicking 'customize'
This colorful travel accessory bag displays the tools of the seamstress. Bright spools of thread in rainbow colors of green, red, pink, turquoise, yellow, gold, blue and orange stand beside a measuring tape, thimble, buttons and pins. All are set on an image of a brown burlap pattern background.
A bright, colorful burst of various shapes makes any room POP! Add to your home decor, use at your next party, or give as a gift.
Here is a colorful wrapped canvas print with an abstract spiral rainbow pattern swirling around a central target in colours of green, blue, yellow, orange and red.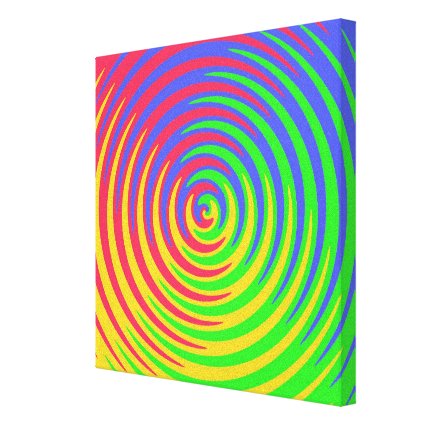 Rainbow Spiral Canvas Print
by
Bebops
Browse Rainbows Canvas Prints online at
Zazzle.com
This decorative throw pillow features an adaptation of a fine art painting of a small alley in St. Croix, Virgin Islands, by the American artist, Anna Unterman. The bright, sunny street scene is a riot of colors. There is a red, pink and magenta bougainvillea vine over the archway as well as orange flame vines and other green shrubs and leaves. The colorful buildings are yellow, gold, blue and green. Reprinted with permission from the estate of Anna Unterman. All rights reserved.
Adopting The Dungeons Bandana: A vibrantly colored mandala. © and ® JHumlie - All Rights Reserved.