This USB Flash Drive features a mystical night sky. The air is permeated with mist. A full moon shining through the trees lights up the misty clouds in shades of gold, yellow orange, white and brown to form an interesting abstract pattern.
This Samsung Galaxy S7 case features an abstract interpretation of a larger than life fire ant. The colors are black, brown and red set on an orange background.
Features a Czarist Five-Ruble banknote dated 1909. A little cold cash. In accordance with legislation passed on 29 August 1897, paper bonds were secured with gold reserves. Bonds could be used in all territories of the Russian Empire. The State Bank exchanged the paper bonds for gold coins without a limit on the sum (1 ruble = 1.15 Imperials, containing a 17.424 share of pure gold). An alpha-numeric mark was printed on the face of the banknote, along with a serial mark and an image of the Russian Empire's coat of arms. The background of the back side included the emblem of the Russian Empire, the Imperial crown, scepter, orb, sword, the head of an animal, pictures of plants, etc. It carries the double-headed eagle crest of the Romanovs.
This fine art photography poster features two lovers in silhouette enjoying the sunset at Cayuga Lake in Ithaca, NY. Beautiful orange, yellow and gold colors the waves and ripples in an abstract pattern. This is one of the Finger Lakes of upstate New York.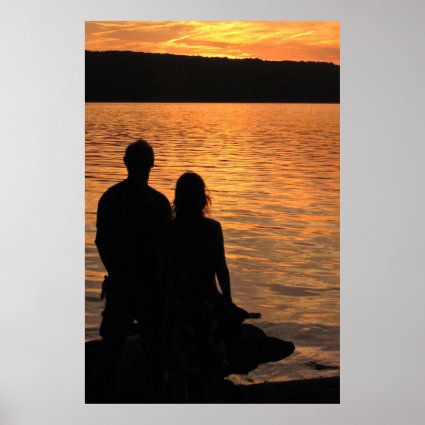 Lovers at Sunset Lake Poster
by
Bebops
Browse Lovers Posters online at
Zazzle.com
This decorative fine art accent pillow presents a Great Blue Heron (ardea herodias) in silhouette, fishing in the shallow waters of Cayuga Lake in Ithaca, NY which is one of the Finger Lakes of upstate New York. A beautiful orange, yellow and gold sunset colors the waves and ripples in an abstract pattern.
This car mat displays a photo of a yellow lily taken in Pleasant Hill, Ca. © and ® JHumlie - All Rights Reserved.
This philosophical tank top depicts the abstract energy of fire in a wood burning stove. The orange, gold and yellow flames appear as joyful dancing characters. They are set off by a black background. The quotation is from the pre-Socratic Greek philosopher, Heraclitus of Ephesus, who lived from c.535–c.475 BCE. It reads: ... it always was and will be: an ever-living fire, with measures of it kindling, and measures going out. The text can easily be customized or removed.
Easily personalize or remove the text on these Earth Day diaper bloomers featuring a Red Eft, the terrestrial juvenile stage of the Eastern Newt (or Red-Spotted Newt). This curious orange fellow with red spots has just emerged from the pond to spend two or three years on land before heading back to the water as a full grown salamander.
This fun pattern features retro style cocktail glasses, each with an orange slice as a garnish. These plates would be the perfect choice for a party where there will be plenty of alcoholic drinks, fun, and a retro vibe!