This fine art floral fabric design is decorated with a repeating pattern of a bouquet of six delicate violet colored crocus flowers with orange and gold centers set on a purple background. When the crocuses bloom, we know spring is here! A great idea for gardeners! Coordinates beautifully with our Purple Spring Floral Wedding Collection. Click
PURPLE SPRING FLORAL WEDDING
to view the whole collection.
Lovely lilacs are the theme of this elegant bookplate. It has a border of pink and mauve lilac sprays on a gradient pale purple background and one simple spray of blossoms above the text. All text can be customized to suit your needs. Terrific for identifying the books in your own collection, they will also make a wonderful gift for book lovers! Customize with your personal name.
Purple African Daisy flower Mouse Pad with design from original watercolour painting by artist Sacha Grossel of close up, macro style purple African daisy flower. This floral design is bright and colourful of purple and white petals with yellow centre against a green background with botanical inspiration for flower lovers everywhere.
This elegant floral wedding consultant business card features a branch of incredible luminous purple, lilac and magenta colored sage blossoms. The reverse has the same flowers glowing on a pale purple gradient background. All text can be customized for your special occasion.
A lovely stained glass pattern adorns this wrapped canvas print in dominant colors of purple, blue, yellow and black. Twelve abstract feathers circle a central mask to form a spiritual mandala design with a Native American sensibility.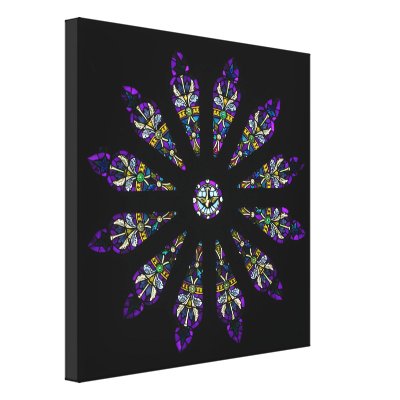 Stained Glass Mandala Canvas Print
by
Bebops
Check out Stained glass Canvas Prints online at
zazzle
Celtic KnotPurple Throw Pillow: Not much history of the knots is available before the beginning of the Christian influence on the Celts in about A.D. 450. There is much evidence for the use of geometric patterns as ornamentation particularly in jewelry before that time. Some historians have theorized that early Celtic religion prevented their depicting creatures realistically.
This fine art iPad Air 2 case presents a seasonal winter landscape in shades of blue, violet, gray, white and purple. The trees are bare. Ice covers part of the water but lovely reflections of trees, clouds and sky shine through. Snow surrounds the pond.
This lovely decorative wall clock features an abstract floral pattern in shades of lilac, mauve and purple. The numbers are white and can be cleared if a simpler design is preferred.
Retro style floral bloom design with elegant scrolls in shades of pink, purple, and mulberry set on a deep blue almost black background. Personalize these coasters with your Monogram!