This patriotic sports watch features a red and white baseball on a blue background. Customize the blue background to the color of your choice.
This animal bath mat features the Great Blue Heron, a large wading bird in the heron family Ardeidae, common near the shores of open water and in wetlands. He is the largest North American heron. Notable features include slaty flight feathers, red-brown thighs, and a paired red-brown and black stripe up the flanks; the neck is rusty-gray, with black and white streaking down the front; the head is paler, with a nearly white face, and a pair of black plumes running from just above the eye to the back of the head. The feathers on the lower neck are long and plume-like. Because this is the breeding season, he also has plumes on the lower back and an orange bill. His feathers are backlit by the luminous sunlight.
An intricate white lace pattern on royal blue - and the reverse on back side of pillow! Cute, retro, classic.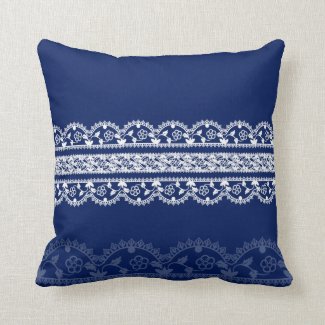 Intricate

White Lace on Deep, Royal Blue Throw Pillow by

First Fruits Designs





This gym duffle bag features six gray and white seagulls gathered at the shore on a sunny day. The image of these birds is repeated on the back. Easily change the blue background to the color of your choice.
This lovely wedding rehearsal dinner invitation creates a scene of peace and serenity in soft pastel colors with floating leaves, pond grass and reflected sky. Easily customize all text for your special event. Click
PASTEL REFLECTIONS WEDDING
to view the whole collection.
Unicorn necklace pendant with a mosaic look to add to the mystery and magic of this fantasy creature is shades of blue.
This iPhone 6 case features the view from the bottom of a very tall tulip tree looking way up to the top. The blue twilight sky creates an interesting lacy abstract pattern of silhouetted trunk and branches. This huge old tree lives in Robert H. Treman State Park in Ithaca, New York.
This floral fabric design features a fascinating geometric abstract pattern of a blue flower set off by background colors of green, red and yellow.
Bird canvas prints with Blue Jay in flowering dogwood branch