Heritage roses grace this floral wedding favor candy tin. Enjoy each old fashioned rose flower in a lovely antique pattern of red, pink and white. Customize the text for your special occasion. Click
ANTIQUE ROSES WEDDING
for the entire collection.
This cute little t-shirt features a sophisticated abstract pattern of the wonderful perennial plant commonly known as Bleeding Heart. Every spring, these lovely heart shaped blooms grace shade gardens.
This square pillow is made with an original photograph taken in a slot canyon on the navajo reservation. The swirling pink and purple sandstone is beautiful and colorful - nature's artwork. All Rights Reserved © 2013 Alan & Marcia Socolik.
This pretty iPhone 5 case features a repeating abstract pattern of an exquisite pale pink cherry blossom with droplets of water from a recent rain bathed in a rosy glowing light. It is set on a pink pastel gradient. What a lovely gift for a gardener!
Digitally softened photograph of a pink rose. A gray picket fence stands behind.
This gorgeous wrapped canvas print features a single delicate poppy. The wrinkled petals fade from dark to light pink and the center is filled with lovely yellow stamens.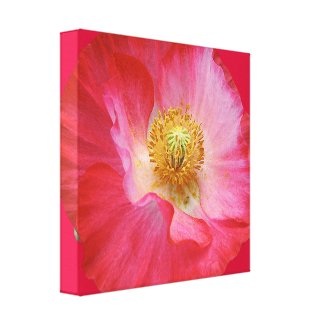 Poppy Gallery Wrapped Canvas
by
Bebops
Find out more about
canvas digital photo printing
This gorgeous custom dinner plate features an elegant illustration of a vibrant pink swirly tropical hibiscus floral decoration against a green, blue and orange background. These unique classy plates are fully customizable and make excellent Valentine's Day or Mother's Day gifts or birthday presents. Matching tea sets, drinkware, dinnerware or kitchenware are also available.